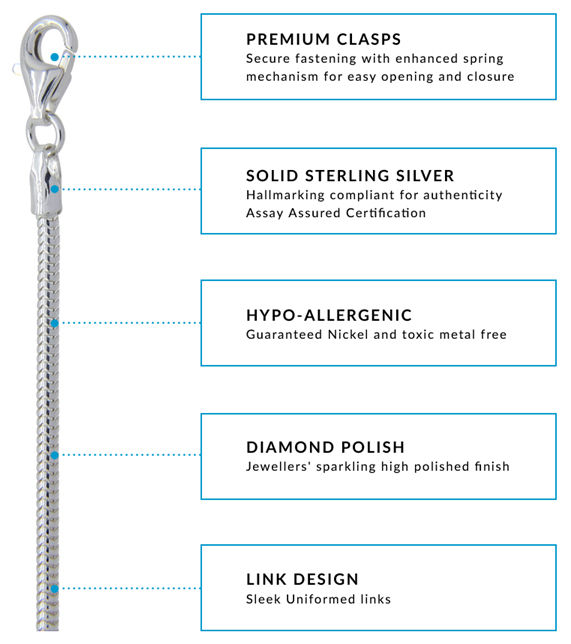 PRODUCT QUALITY

As a chain specialist focussing exclusively on Sterling Silver chains we have adopted a strict quality assurance benchmark which exceeds other jewellery retailers in the market. Each chain style has been meticulously reviewed by its many aspects such as the type of clasp fastening, precious metal purity, finishing standard and link uniformity. From listening to our customers, industry experts and leading chain manufacturers we are able to offer the most desirable Sterling Silver chains which are made to the highest quality guaranteed.
SHOPPING EXPERIENCE

✓ Detailed Product Information
✓ Affordable Pricing
✓ Friendly, Knowledgeable & Professional Service
✓ Up to 28 Days Hassle-free Returns
✓ Same Day Despatch & Fast Delivery
✓ Assay Assured Retailer
✓ Trust & Safety Compliant SSL Certification
✓ Trusted Safe & Secure Payments with industry leading Payment Processor Sagepay

OUR ROOTS
Stemming from our cultural heritage and traditions in jewellery making, our passion for this industry is an inherent part of our DNA. We are a family of jewellery crafters, wholesalers and retail jewellers and our ancestry roots can be traced back to over seven hundred years where our forefathers worked as artisans and jewellery traders. In an era when industrial machinery was not used, each jewellery piece was intricately crafted using basic hand tools with the combination of pure imagination and creative skill. Jewellery was typically made from Gold or Silver with precious gemstones including Diamonds, Emeralds, Pearls and Sapphires and this was regarded as a status symbol. The trust placed in jewellers was very important for customers who expected the highest quality and craftsmanship. By offering each customer a personable jewellery service this allowed for a lifelong and mutually enjoyable trading relationship.

BRAND STORY
Brother's Gordon and Tony founders of www.thechainhut.co.uk
"Our journey through jewellery has been met with excitement and inquisitiveness to learn through the profession. We have been fortunate in growing up in a family of jewellers which has allowed us to thoroughly embrace different experiences in this evolving multi-faceted industry. Cultivating our knowledge and expertise having worked in luxury fine jewellery for the last twenty years, in 2013 we launched our own jewellery company retailing Sterling Silver jewellery online. We soon realised the strong demand for more personalised chains and necklaces which majority of today's high street jewellers are unable to offer both in their stores and websites in terms of specific sizes, chain styles, affordable price and jewellery quality. By connecting with the diverse range of customers across the UK each with individual requirements we identified a marketplace which is being underserved.
We feel that retail jewellers are overwhelmingly brand-led and lacklustre by the limitations of standard off-the-peg chains and in most cases the same branded jewellery is being sold by every jeweller. This does not leave room for much choice or versatility. At the opposite end of the market those offering low-value chains have restricted themselves by price caps and this results in a compromise over quality.
The Chain Hut solves this problem! Jewellery is a personal statement and not only an expression of style but an extension of each person's personality. In this respect as a fully fledged chain specialist we are able to offer the largest choice of exclusive Sterling Silver chain styles in a variety of sizes and finishes. This allows for a more tailored and comfortable fit. By working in partnership with leading suppliers many of which manufacture for globally recognised jewellery brands, we are able to source luxury quality chains negotiated at the most competitive prices. We aim to continue from our roots in offering a personable customer service in the team of friendly and professional jewellery advisors who love to help. Our website is designed to ensure that your online shopping experience is enjoyable, informative as possible and for your purchasing process to be seamless."