It can often be confusing to understand the differences between types of chain necklaces, their names or link shapes. There are even certain chain styles great for wearing on their own as everyday wear or special occasions, but also those suited for specific purposes. Whether it be fashionably layering with other necklaces; wearing with small / heavy pendants or with simple pendants / those with stones set within them, you're sure to find a a link pattern to match your style.


Jump to a Chain Style:
ANCHOR | BALL / BEAD | BELCHER | BISMARK | BOX | CHAINS WITH BEADS (aka BOBBLE or SATURN) | CURB | FIGARO | FOXTAIL | FRANCO | LOOSE ROPE | MARINA | MESH | POPCORN | SNAKE | SINGAPORE | SPIGA (aka WHEAT) | TRACE
ANCHOR CHAIN
A bold style of chain, the Anchor Chain is modelled on those found in the dockyards and ports to haul sea vessels of all sizes. This nautical chain link features oval shaped links, almost identical to our trace chain but much thicker. Some varities of Anchor Chain feature continual smooth rounded surfaces. Others as that pictured below have flat outter surfaces, created through a process known as diamond cutting. Diamond Cut versions can be highly appealing with because it gives a highly polished smooth surface, that allows the reflection of intermittent light, to produce moments of sparkle.

Browse through our Anchor Chain Necklace collection



BALL / BEAD CHAIN
The Ball chain also called bead chain is made from spherical shaped beads with pin holes which are then threaded through a single silver wire using a connector. Each ball is spaced at regular intervals across the whole length to form a complete chain. Historically the ball chain has been worn from as early as the mid-19th century most notably by military personnel with an identification tag attached. These were typically made from stainless steel for durability and are known as Dog Tags.
In jewellery fashion ball chains are very popular and now made in many different shapes, sizes and finishes which makes this particular style alluring. Diamond cut balls, oval shaped ball beads, engraved, spiral, 9ct yellow gold, 9ct rose gold finishes are some examples of these creative ball chain designs.
Browse through our Ball / Ball Bead Chain Necklace collection
BELCHER CHAIN
A timeless classic, the Belcher chain was made famous after originating here in Britain in the 18th century. It was named after the Bare Knuckle Boxer Jem Belcher who was Champion of All England from 1800 to 1805. The chain also known as a Rolo (Italian for round) chain is made from a D-shaped wire and is cut and shaped into individual round or oval links which are then interlocked together. Each link is then closed and soldered to form a chain. The Belcher Rolo chain is one of our featured hot favourites for its simple look and versatility as a stand-alone chain or to wear with pretty much any pendant of choice. Varities include the Round Belcher (below nearest) as well as Oval Belcher (below furthest).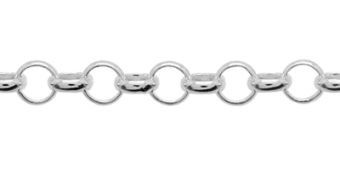 Browse through our Belcher / Rolo chain collection



Browse through our Bismark chain collection


Also known as a Cube, Briolette, Square Link and Venetian chain, the Box chain is similar to the Belcher chain but is made from a thin rectangular shaped wired which is formed into a square shape. Each square link is then closely interlocked one after the other to create a chain. The end result is of a fantastic geometric style chain which looks modern and sleek. The Box chain can be worn with pendants or on its own. Variations of the box chain are crafted, including with flat surfaced box links (nearest below) or with a mildly rounded surface (furtherest below). For further insights about the vast styles of Box Chains, including Double Box Chains, Triple Box Chains, Greek Box Chains and more, we'd highly recommend checking out our related blog post What is a Box Chain Necklace?


Browse through our Box chain collection
CHAINS WITH BEADS / SATURN / STATION / BOBBLE CHAINS
A modern fashion trend, the chains with beads style recruits any type of chain to play the lead role, and is supported by different shaped beads that are fixed in place at regular intervals along the chain and at times almost give a floating appearance. With varying choices of round, disc shaped, cubed, oval shaped beads upon the chain link, it's a style that creates contrast with the beads often being purposely larger than the thickness of the chain itself. It's an ideal style of chain that is a fashion piece in itself without the need to add a pendant for completeness, though layering with other chains of a similar style and varying beads is a sure winner.
Browse through our Chains with Beads collection
Recognised as the most popular and treasured of all the chain styles across the world for its versatility as an everyday chain which is suited for all childrens, ladies and men. The Curb chain is also known as a Gourmette or Grumetta chain is another of our featured hot favourites as a timeless classic and a staple for every jewellery wearer. In design each interlocked link is twisted slightly and often hammered to create a stunning flat linked chain. The smaller and thinner Curb chains which tend to be lighter are suitable to wear with pendants for children and ladies. The thicker and heavier Curb chains are worn by men. Curb chains are manufactured in a large variety of link shapes, widths and finishes. Commonly Curb chains are diamond cut which is where the corners or sides of each each link has been carefully shaved at an angle to create facets. This allows light to catch each link creating a wonderful dazzling sparkle. For further information about the different styles of Curb Chains we'd highly recommend checking out our blog post What is a Curb Chain? from our Chain Styles Insights Section that provides in depth comparision between these types.
Browse through our Curb chain collection
The Figaro chain originates from Italy and is named after the popular Italian opera The Marriage of Figaro. It is a flat link chain similar to the Curb chain but comprises of a pattern of two or three circular links interlocked followed by a single elongated rectangular link. Figaro chains are very popular amongst men and are a perfect combination adorned with a pendant.

Browse through our Figaro chain collection
The Foxtail chain is a very unique style and formed by using a looped chain link made of two rows of 45 degree slanted oval shaped links which are connected by a series flat links running along the centre of the chain. This repeated pattern creates a braided or chevron effect which gives the appearance of a fox's tail. The Foxtail chain can be altered to tweak the chain shape by hammering or using a jewellery swage for a squarer or rectangular design. Several varieties of Foxtail Chain exist with two different variations pictured below.
For further information about the Foxtail Chain why not check out our blog post All you need to know aboutthe Foxtail Chain HERE
Browse through our Foxtail chain collection
A chain growing in popularity, the Franco chain features a pattern stream of V shaped links also known as chevrons. These chevrons also akin to pointed arrows are a shape instantly recogniseable with a classic style of chain- the Foxtail Chain. What's the difference between Franco Chains and Foxtail Chains? The Franco Chain only has two sides of its 4 sides with the chevron - with the remaining 2 akin to a Curb link pattern. The Franco chain can thus be easily worn either side up depending on the pattern preferred. Unlike the Foxtail Chain which has a textured surface, the Franco Chain has a smooth surface. The pattern of the whole of the chain length is simply formed with one link paired with another continually, allowing more flexibility, versatility compared with a Foxtail Chain style made from a more intricate design style with a more rigid and tightly composed structure. Below pictured are the two designs visible on the Franco Chain as you rotate the chain. As the chain is rotated the pattern will alternate between the Chevron pattern, followed by the Curb pattern and repeating back with the Chevron and finally Curb until it has rotated fully:
Browse through our Franco chain collection or Browse through our Franco Bracelet collection



Also known as the Prince of Wales, the Loose Rope chain is similar to the standard Rope chain but is made from a thinner wire which is shaped into rings and then interlocked typically into groups of four links. This pattern is then repeated to create the twisted rope design. In appearance the spacing in between each link makes the chain very flexible and owing to the connectivity of each link this makes the chain very strong.
Browse through our Loose Rope / Prince of Wales chain collection
Taking its origin from Maritime the Marina chain is another timeless classic and also known as an Anchor or Mariner chain easily characterised by a pattern of oval shaped links which consist of a single vertical bar in the middle of each link. Just like the Curb and Figaro chain the links are then hammered and diamond cut to create a stunning flat linked chain.
Browse through our Marina / Mariner chain collection

Browse through our Mesh Bracelet collection


A beautiful style also known as Coreana, the Popcorn chain is a light weight chain and tubular in shape. Comprising of a series of hollow links which have either a flat or concaved pattern, the convex links gives the chain a very textural feel and resembles a strand of beaded popcorns.
Browse through our Popcorn / Coreana chain collection
Sleek, smooth and sexy, the Snake chain is a popular style adorned by both ladies and men. The tubular links which comprises of small round wavy sheets are interlocked tightly to form a continuous tube. Its name comes from the striking resemblance to a snake by its subtle zig-zag pattern and flexibility.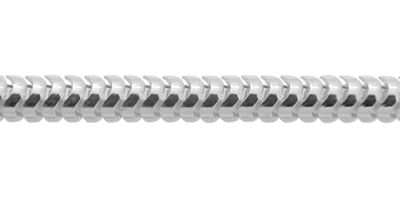 Browse through our Real Snake chain collection
The Singapore chain is similar to the Curb chain but with hammed disc shaped links which are twisted like a Rope Chain. This allows light to catch a different angles along the chain and creates a wonderful sparkling ripple effect. Singapore chains are perfect to wear with pendants.
Browse through our Singapore chain collection
A delightful style the Spiga chain takes its name from the Spanish word Espiga which translates as Wheat and is a superb choice popular amongst men. In design the links are shaped in a figure of eight and intricately interlocked creating a natural organic profile which resembles tips of wheat stalks. The Spiga chain is a very strong and durable chain which makes it perfect for wearing with pendants.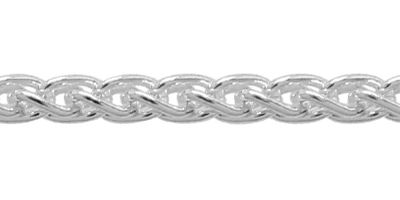 Browse through our Spiga chain collection
The Trace chain which is also known as an Anchor or Cable chain is a fine and delicate style made from a thin wire shaped into uniformed oval or round links. Trace chains are generally 2mm or less in width and lightweight and can come in various wire thicknesses. This style is perfect for wearing with dainty, light and small pendants.
Variations on link include a plain rounded link pictured nearest or faceted diamond cut links pictured furthest for enhanced light reflection resulting in intermittent flashes of sparkle.
Browse through our Cable Trace chain collection